Registrar of Voters Going Green Initiative
Three Steps to going green and saving green
Step 1: Register to Vote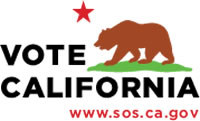 California Online Voter Registration Application
Online Registration
It's fast, it's easy, it's free, and now It's Paperless!
In September 2012 the California Secretary of State's Office launched the California Online Voter Registration (COVR) portal. Anyone eligible to register and vote, with access to a computer, can now go online to www.registertovote.ca.gov and complete an application to register to vote. With the click of a mouse, anyone can register to vote anywhere in the state.
Prior to the 2012 Presidential Election, over 15,000 paperless COVR applications were received and processed by the Sonoma County Registrar of Voters Office.
The Registrar of Voters Office is committed to expanding our voter registration outreach efforts to target under-represented groups (especially our youth) and encourage them to complete a registration form online.
Our vote IS our voice. We want every voice to be heard.
Step 2: Vote-by-Mail

Voting by mail saves time, money
and reduces gas emissions!
Voting by mail saves time, money and reduces gas emissions!
Any registered voter can also apply for Permanent Vote by Mail status
How to apply…
On the California Online Voter Registration form check the box that says "Yes, I want to be a Permanent Vote by Mail voter. Or, initial that line on the postcard registration form.
Print the Vote-By-Mail Ballot Application

(PDF: 48 kB)

. Sign the form and return it to the Registrar of Voters Office in person or by mail.
Return the application on the back of the Sample Ballot.
Send in a written, signed note requesting a ballot any time until 7 days before an election.
Why vote by mail…
It's less expensive than voting at a polling place. Vote by Mail ballots are mailed at Standard Non-Profit rates.
Vote in the comfort of your own home. Then mail your ballot in. With fewer cars being driven to polling places, we can reduce the level of GAS EMISSIONS.
Pending legislation would permit us to calculate the numbers of voters going to a polling place precinct after deducting the Vote by Mail voters, allowing us to consolidate polling places. Fewer polling sites mean fewer supplies and materials being distributed each election.
Two-thirds of the voters in our county are permanent Vote by Mail voters. Increasing that number will save taxpayer dollars.
Step 3: Apply to Access Your Sample Ballot/Voter Information Online
Opt out of getting a Sample Ballot/Voter Information Pamphlet by mail. Access your information online. It's Paperless!
Fact: In the June 2012 Primary Election, the Registrar of Voters Office ordered 122,550 Sample Ballot booklets (1,004,100 8 ½"x10" sheets of paper, or 2008 reams of paper) and 189,710 voter pamphlet inserts (991,630 8" x 10" sheets of paper, or 1983 reams of paper) to distribute to voters.
If only 20% of those voters had chosen to opt out of receiving their information by mail, we could have ordered 46,839 fewer books and would have saved the cost of printing nearly 400,000 sheets, or 800 reams of paper. One tree can make 16.67 reams of copy paper. We could have saved 47 trees in one election, or almost 100 trees in one election year!!
Effective January 2011, California state law permits voters to "opt out" of receiving their Sample Ballots/Voter Pamphlets and other election-related material by mail. Instead, voters can access their information online at our web site, vote.sonoma-county.org. An application will be available on the web site, where voters can choose to opt out of receiving paper Sample Ballots/Voter Pamphlets and polling place location. Once voters complete the application and submit it electronically, paper copies of the information will no longer be sent to them. A voter can, using the same form, choose to "opt back in" to receiving the information in paper form at any time.
The cost to print and mail a Sample Ballot/Voter Pamphlet is approximately $0.75.
If we could reduce our order by 20% or 46,839 at $0.75 each, then we could save $35,129.25.
• Anyone with a WiFi enabled device can access his/her Sample Ballot/Voter Pamphlet on our web site 40 days before the date of the election, 24/7.
How can You help?
The Sonoma County Registrar of Voters Office is making this effort to align itself with the County Plan to reduce its carbon footprint. As technology is ever-changing, we have identified areas where we can be proactive in helping to meet that goal. We are simply asking your support in soliciting the assistance of other County agencies that can further our efforts. Change is necessary and often comes with a price tag, but some things can be done with little effort and at little or no cost.
We are seeking other County agencies that can offer ideas and suggestions for promoting our efforts or offer resources to promote our threefold effort. Some things we've considered are the following:
Placing these three buttons with captions below, on agency web sites that the general public may access, or provide a direct link to the ROV web site.
Including informational pieces in agency mailers such as tax bills, water bills, etc.
Placing posters on public display boards to remind the public of the importance of voter participation - not just registering to vote but also casting their ballots.
With your support we know that this will be a successful and cost saving endeavor for the County of Sonoma and the voters of Sonoma County.
Respectfully submitted
William F. Rousseau, Clerk-Recorder-Assessor
and Registrar of Voters